Posts Tagged 'Ebooks'
Rodney C. Johnson:
I do not usually blow my own horn. But this is really a favorite story of mine. So I have to share this.
Originally posted on Jo's Random Book Reviews: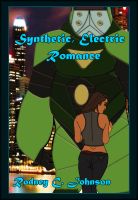 Jack the Ripper meets robots. Or more accurately synthetic life.
Sarina is a Morningstar, a kind of synthetic life form, who's in love with what is essentially a mobile tank unit. But Cylus is more than an old weapon. When he was struck by lightning he developed a consciousness and has been ruled a valid life form by those in power on Gear. He and Sarina lead a peaceful life until fembots start disappearing. Whether by fate or accident (Morningstars don't believe in accidents), Sarina observes some suspicious characters in a dark part of the city. Could they be responsible.
This was a fun, twisty turny novella that kept me guessing. Though it is part of the Neo Human universe, I think you could read this without having read the other books, as there is a list of characters and important "concepts" in the back. But, for fans of the…
View original 20 more words
Categories:

Books, Ebooks, Entertainment, Falcanians, Fiction, Morningstars, Neo-human, Roadrunner Books, Robots, Robots, Rodney C. Johnson, Science Fiction, Short Story, Writing and Publishing Myths
Books, Ebooks, Guardian Robot, Humanoid robot, Neo-human, Neo-human Series, Novella, Robots, Synthetic, Synthetic Biology, Synthetic People, Synthetic Person